eStrategy Consulting and JLL conduct a joint report on digitization in the German retail sector
The rise of eCommerce sales last year, coupled with the corona pandemic, has led to an evolution in buying behavior that will continue in 2021. Shoppers may be getting accustomed to conveniences such as instant access to detailed product information, contactless payment, and online returns — whether they're purchasing in-store or online. Retailers and brands who can adapt and exceed the customer's expectations have an opportunity to fare well in the future. We hit the streets to find out exactly how visible the German retail sector is in the digital world.
To expand on a Berlin-based study that eStrategy Consulting conducted last fall, Status of Digitization in Stationary Retail in Ku'damm & Tauentzienstrasse, the research team conducted a wider joint analysis with property consultancy company Jones Lang LaSalle (JLL). The new study, Digitalization in the German Retail Sector (PDF), gives an overview of which stores, brands, and locations offered features or services that tailored to the needs of the digital customer across Germany.
We examined 755 shops in 12 high streets of Germany's big 7 cities (Berlin, Düsseldorf, Frankfurt, Hamburg, Köln, München, and Stuttgart), taking into account all phases of the customer journey relevant to the stationary point of sale (POS).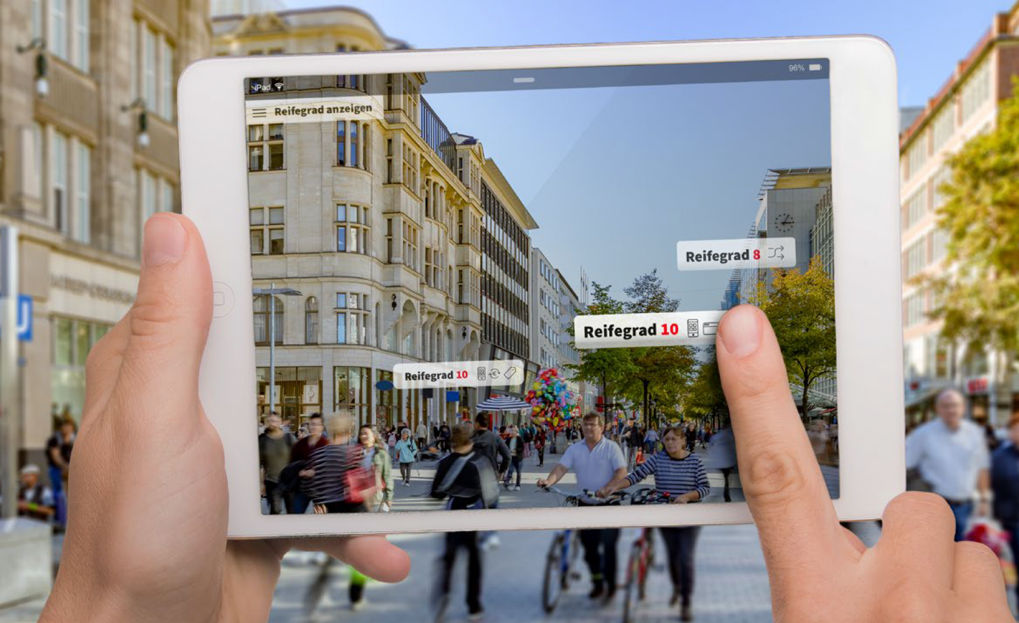 To better understand how different cities and shopping districts perform in the study, our researchers created a digital maturity index (DMI). The Index measures a selection of dimensions of the digital experience:
The store's online visibility and its assortments. Are they visible on Google Maps or Google My Business? Can shoppers find businesses or products online and then find the store offline?
Omnichannel features. How well do online sales channels link to the local product range? Can shoppers buy the item online and pick it up in a store nearby?
Digitally supported customer experience at the point of sale (POS). This includes inspiration and entertainment, store navigation and product information, self-service, and equipped with tablets, mobile payment, and digital services.
Digitally-driven customer loyalty at the POS. What keeps customers coming back? We looked at customer loyalty cars, apps, and anything else that rewards customers for shopping with a brand.
A digital maturity level can range from 0 to 10 (max) points. If a store has a 10, that means the store meets all of the above criteria with the maximum proficiency level.
Download this free report and learn:
The online visibility of the store and its ranges – Do the stores have a website or a webshop? Are they visible on Google Maps or Google My Business?
Omnichannel features – How well are the online sales channels linked to the local range? Can customers find, reserve, or buy the item online?
Digitally supported customer experience at the point of sale (POS) – Which digitally supported formats of inspiration and entertainment are available? Are there options for branch navigation and product information? Can customers serve themselves digitally or how are the employees equipped? Which digital payment methods or services are available?
Digitally supported customer loyalty at the POS – Which technologies are used for customer loyalty? How are customers rewarded for shopping or addressed afterwards?
eStrategy Consulting will be publishing more deep dives and best practices for digitization in retail in the coming weeks.
Follow us on LinkedIn to be the first to receive the news.